+91-171-2891500
info@radicalindia.com, info@radicalscientific.com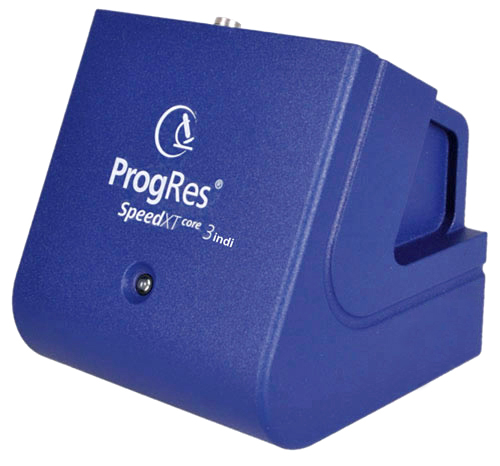 CCD High Speed Cameras
With innovative SpeedXT core technology provides an improvement in live image speed of high-resolution CCD cameras. The user is enabled to facilitate precise focusing and very easy positioning of specimens without interlace effects – a clear advantage in the analysis of moving objects and for optimal task management in laboratories. Easy connection and data transfer is ensured by USB 2.0 interface. Brilliant images in proven CCD quality with superior colour reproduction can be achieved immediately through an overall faster workflow.
outstanding live image speed
Excellent image quality and high resolution
Perfect color reproduction
CCD microscope camera
45 fps
USB 2.0 interface
3.4 x 3.4 µm pixel size
2/3"sensor
12 bit
Software included
ProgRes SpeedXTcore indi Camera Type
ProgRes SpeedXTcore 3 indi
ProgRes SpeedXTcore 5 indi
Image Sensor
1/1.8" CCD
2/3" CCD
Color/Monochrome
Color
Sensor Resolution(Max)
2080 x 1542 pixel[3.2MP]
2580 x 1944 pixel [5.0Mpix]
Pixel Size
3.45 µm2
A/D Convserion
12 Bit
Dynamic range
61 dB
Exposure times
30 µs...180s
Analog gain
1x..5x
Max.frame rate(image size)
17 fps [2080 x 1542]* 30 fps [1040 x 770]*
13 fps [2580 x 1944]* 45 fps [640 x 484]
Image resolution Binning: Progr.scan:
2× ... 5× (SDK) 688 x 512
2× ... 5× (SDK) 2576 × 1944 | 1288 × 972 | 640 × 484
Cooling
No
Digital Interface
USB 2.0, USB 3.0 conform
Optical Connection
C-mount 0.5x /.63x recommended
C-mount .63x recommended
Trigger In/Out
NO
Voltage supply
USB Powered
Power consumption
Approx. 2.5W
Ambient conditions
Temperature: +5°C....+35°C /Humidity: 5%....80% not condensing
Stock conditions
Temperature: -10°C....+70°C
Dimensions (LxWxH) /Weight
89mm x 84mm x 93mm /approx 700g
Software
Radical Capture Pro PC/MAC(Twain for PC),SDK on request
Hardware requirements
Microsoft Windows XP / Vista / Windows 7/8/10 (32 & 64 bit) CPU: 3 GHz or 2 GHz multicore
RAM: min. 1 GB l graphics: min. 256 MB l interface: IEEE1394 Firewire a (OHCI Standard), USB 2.0 or USB 3.0
As we are continuously improving & developing our products, this websites may not be updated with advancements done. However, we try our best to update the website for latest information's
For complete updated specifications, please do ask for latest brochures
© 2018 Radical Scientific Equipments Pvt. Ltd., All rights reserved.